Most active topic starters
Top posting users this week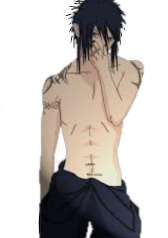 Name:
Achilles Antetilius
Nicknames:
Gender:
Male
Age:
25
Birth Place:
Sparta
Currently Living In:
Wandering
Race:
Human
Religion / Beliefs:
Agnostic
Blood Type:
O-
Height:
6'0"
Weight:
182 Lbs.
Frame / Build:
Muscular
Hair length:
Short - Medium
Hair color:
Black
Eye shape:
Normal
Eye color:
Red
Complexion:
Pale, Fair
Face size (broad, narrow, etc.):
Narrow, Strong
Voice type:
Neutral Bass
Tattoo(s):
Shoulders
Scar(s):
Arms, Shoulders and Back
Personality:
Achilles is serious and pragmatic. He isn't above having fun though. He lived a relatively good life and has ascended to the position of Demi-God at a relatively young age. This is due in part to his heritage and good DNA. He is typically very relaxed and tranquil person, though he can lash out if annoyed or angered. He generally keeps his emotions in check though.
Occupation:
Wanderer
Tier:
X-3
Strengths:
Magical Pressure (X-1)
Weaknesses:
Durability (0-1)
History:
Achilles was born 25 years ago into the typical Spartan home. When he turned six, his father entered him into the training program where he was taught the ways of war. He would attend the program during the day and then would come home to more lessons from his father. By the time he was 12 he was ready to take on the crucible, he made it the entire time in the wild with no issues due to his sheer prodigious skill. He then went on to wander the world and train in various aspects of fighting before he was chosen by his own Patron god, Alucard, to come to train in Mount Olympus, where he spent several years training. Now, he roams the world, in search of adventure.
Wanderer





Posts

: 23


Join date

: 2017-06-06



---
Permissions in this forum:
You
cannot
reply to topics in this forum