Most active topic starters
Top posting users this week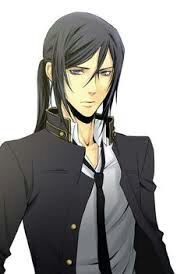 Name:
Alucard Antetilius
Nicknames:
Dragon of the West
Gender:
Male
Age:
375
Birth Place:
Esblem, Elagrid
Currently Living In:
Tartius-Tor, Vandale
Race:
Demon
Religion / Beliefs:
None
Blood Type:
O
Height:
6'0"
Weight:
185 lbs
Frame / Build:
Slim-Muscular
Hair length:
Long, ponytail style
Hair color:
Black
Eye shape:
Almond
Eye color:
Red, slitted pupils
Complexion:
Pale
Face size (broad, narrow, etc.):
Narrow, Angular
Voice type:
Smooth Tenor
Tattoo(s):
None
Scar(s):
Littering his back and upper body
Personality:
Alucard is typically a happy-go-lucky and laid back guy. He enjoys spending his time wandering the world and visiting various taverns and meeting different people. But, this is not how he always was. Back during the "SouthEastern War", he was sent in with the army of Elagrid to aid in the "Siege of Fort Arnul" It was here that he unveiled his prowess in magic to the world. Using both his Dragon magic and Fire Magic, he decimated the entire fort, killing all inside. This was a deciding offensive that brought the war to a close. It was during this battle he became known as the "Dragon of the West". He still holds a bounty in the Kingdom of Capralorn. It was due to his being ordered to commit these acts in the name of defending his kingdom that once the war ended he left the kingdom in search of himself and a purpose.
Occupation:
Wanderer
Tier:
0-3
Strengths:
Speed (Racial)
Weaknesses:
Durability (Racial)
History:
Alucard was born in the Third Era in the town of Esblem located within the Southern Kingdom of Elagrid. He was born looking like a normal human boy, aside from his slitted red eyes. It was due tot his that as a child he was often attacked and discriminated against because the people viewed him as a Demon. They didn't know how right they were. It wasn't until he had entered his twenties that he realized his true potential and left the town to go and learn more about not only himself but about combat and magic. He trained with many various teachers, true masters of their art. He even trained with one of the fabled Dragons living in Ridbrad. It was around ten years later that he returned to Elagrid and Esblem to make a name for himself. He took on a few quests and eventually gained the trust and admiration of the people. He was approached eventually by the Commander of Del Nalfen to join the army and aid in the war against the Werewolves in Elagrid and Capralorn. He aided in the war to the best of his abilities. Quickly gaining the respect of his fellow soldiers.
It was a few years later that things took a turn for the worse. It was during an offensive near a small town, the wolves had been backed into a corner by the Giants and were about to be detained, but a single pyro mage decided he would kill the beasts, rather than attempt to cure them. He ended up killing not only the Giants but the Dryads in the vicinity as well. This led to the factions all turning on each other, "The Blood Forest Skirmish" The first battle of the South Eastern War. After a few years Alucard was ordered to head to a siege happening at Fort Arnul. The Siege had been going on for around 3 months and the army was running low on supplies and morale. When Alucard arrived, he was all business. His body engulfed in flames before he took on the appearance of a dragon with glowing red eyes. He breathed fire all over the Fort, burning everyone inside alive to a crisp. The area around the fort smelled of burning wood and flesh for months afterwards.
It was after the horrifying events of the war that Alucard became disillusioned with Elagrid and took off north to find some meaning in his life. During the Fourth Era, Alucard had been merely traveling from Kingdom to kingdom helping where he could and most of all, drinking at any and all taverns he could find. It became a pasttime of his to go to each tavern in the world at least once. He also visited each and every city, trying to take in how each city and kingdom had a different culture and tyring to see how each culture lived and interacted with the world around them. He eventually found Tartius-Tor, where he just felt at home. No, it wasn't the nicest place in the world, but perhaps that's what attracted him to it. The simplicity of survival of the fittest.
Divine





Posts

: 267


Join date

: 2017-05-20

Character sheet
Race: Demon/Spirit
Tier: X-3


---
Permissions in this forum:
You
cannot
reply to topics in this forum